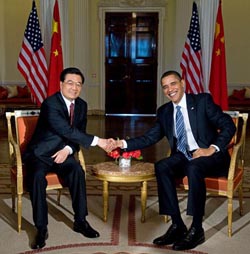 In 1970, China and the United States resumed talks on the ambassador level. In July and October, 1971, Dr. Henry Kissinger, national security advisor to the president of the United States , twice visited China
in secret to pave the way for the visit by President Richard Nixon. President Nixon visited China on February 21, 1972. On February 27, the two countries issued the Sino-US
Joint Communiqué, marking the opening of the gate for bilateral relations.
On December 16, 1978, both the Chinese and American governments simultaneously published the Joint Communiqué of the People's Republic of China and the United States Concerning the Establishment of Their Diplomatic Relations. In the Communiqué, the US Government accepts the three principles raised by China for establishing diplomatic relations, namely (the United States) cutting off diplomatic relations with Taiwan, withdrawing its armed forces and military facilities from Taiwan and annulling

the treaties signed by the United States and the Chiang Kai-shek regime. Starting from January 1, 1979, the two countries officially established diplomatic relations, marking a historic turning point in the bilateral relations. From then on, the Sino- US relationship entered a new stage.
The establishment of a diplomatic relationship opened a channel for exchange and co-operation between China and the United States . However, the bilateral relations have traveled an uneven path. During the past 30 years, the Sino- US relations have been advancing although there have been ups and downs in the relationship. The mutual visits by leaders of both countries and discussions between high officials have been maintained. Advancement has also been achieved by the two countries in their exchanges and co-operation in the fields of trade, science and technology, culture, education and military affairs.
The current China-US diplomatic relationship now stands at a new historical starting point. Since US President Barack Obama took office, thanks to the concerted efforts of both sides, China-US relations have achieved a smooth transition and got off to a good start and maintained a positive momentum of growth. It is our shared view that, in the new situation, the strategic significance and global impact of China-US relations has become all the more prominent. To build a positive, comprehensive and cooperative Sino-US relations in the 21st century serves the fundamental interests of the two countries and peoples and contributes to peace and development of the Asia-Pacific region and beyond.